News: BaoSuo Enterprise Group Support Asia Symbol Build The Intelligent Factory
30-12-2022
News: BaoSuo Enterprise Group Support Asia Symbol Build The Intelligent Factory
In the second half of 2022, Asia Symbol officially entered tissue production in China. BaoSuo Enterprise Group as the qualified partner has provided intelligent equipment, support Asia Symbol to build multiple intelligent factories in mainland China.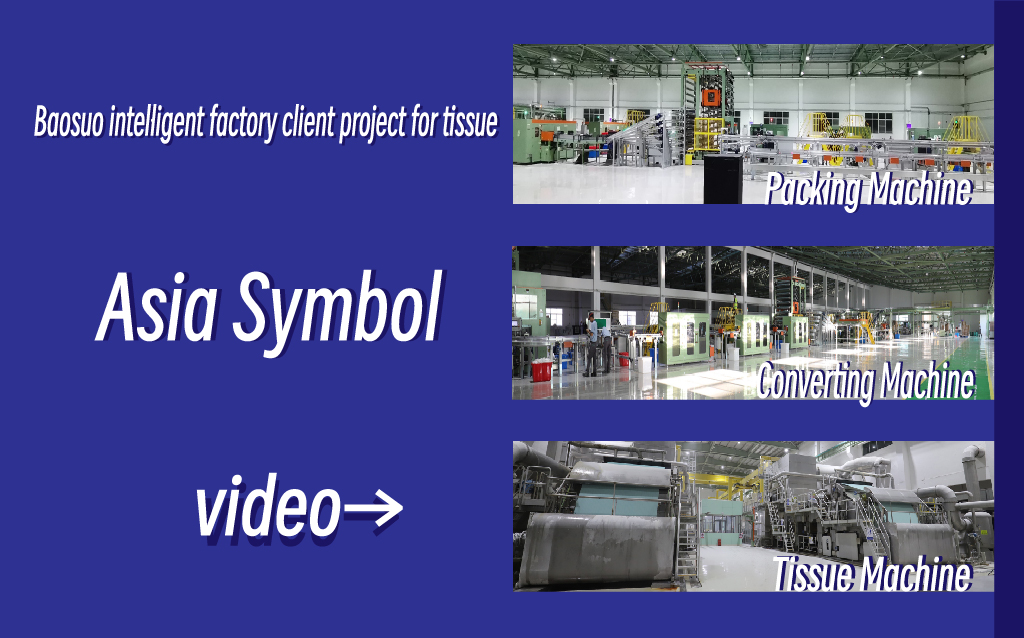 The tissue project of Asia Symbol covers a series of high-quality intelligent equipment, including advanced tissue-making machines, tissue-converting machines, and packaging machines of various types.
In the tissue production workshop of Asia Symbol, there are a number of selected BC1600-2850 Crescent Former Yankee Tissue Machines produced by Baotuo Paper Machine, the subsidiary of BaoSuo Enterprise Group. Production speed exceeds 1500m/min, designed annual production capacity reaches 25,000 tons/set. The machine features high intelligence and is environmentally friendly.
The converting workshop of Asia Symbol adopts the following intelligent converting and packing machine produced by BaoSuo Machinery and BaoJin Technology, both are the subsidiary of BaoSuo Enterprise Group:
# YH-PL190-2900 Full Automatic Facial Tissue Production Line
# YH-FG180-1500 Full Automatic Facial Tissue Production Line
# YD-PL450-3000 Non-Stop Rewinder Line
#YD-PL450C-3000 Non-Stop Rewinder Line
#YD-PL450SE-2900 Non-Stop JRT Rewinder Line
# PF-EA-3000 Automatic Slitting Rewinder (two-color printing)
# MJ-NJPJ225-1500 Full Automatic N Fold Towel Production Line
By connecting equipment in series, on the basis of digital design, use technologies for the Internet of Things, Internet, and monitoring to strengthen the information management and service. Timely collect production data and calculate order schedule, ensure more reasonable arrangement, improve the controllability of the production process, reduce human intervention on the production line, and achieve a high-quality project of the intelligent factory!
Video link for the factory in production: https://youtu.be/bY_HN2bn_1M
Email: master@baosuo.com
Tel: +86-757-86777529